Warne Scope Mounts can help you find the best budget scope rings for your build.
Are you someone just looking into getting into shooting or hunting? You are new to the sport or maybe it's just something you are considering and do not want to invest too much into because you are just starting out. We do have a mounting solution for you.
Not everyone can afford top-of-line hunting, shooting setup, or maybe they just don't want to spend that much yet and want to upgrade over time as your interest grows provided you do a little wise shopping. You do not want to buy faulty gear that will only cause you frustration and then lose interest.
There are plenty of budget rifles made by name-brand manufacturers that are still great rifles. Also, there are some decent scopes to fit most budgets as well. But always keep in mind you get what you pay for so look up reviews and get a name you can trust. Usually what you give up on lower-priced scopes are features and quality of glass and its ability to capture light it's something you will just have to give up if you want to spend less, but one thing you cannot give on is its ability to hold a zero (stay on target). So be sure to research that and read reviews.
High-quality scope mounts can be spendy too, but you must keep in mind that they join your scope to your rifle, and when your rifle recoils that shock wave travels through your rifle through your scope rings and through your scope. If you get poor quality rings you may have problems hitting your target and you may lose interest in a sport you would otherwise love.
At Warne Scope Mounts, we are also shooting enthusiasts , so we know that the price tags of rifles and scopes, as well as all the other accessories available, can quickly skyrocket. Additionally, it seems like firearms are the only thing that holds their value these days. So, we know exactly why you are looking for budget scope rings because we've been there.
Economical Solution
Wane makes some top-tier rings and bases that like such as our Mountain Tech which are rugged and lightweight precision cut and finished with elegant style. Then we have our Maxima line which is our mid-cost ring that grips the scope and holds it solid shot after shot. But if you are truly on a budget Warne offers a quality product you can trust.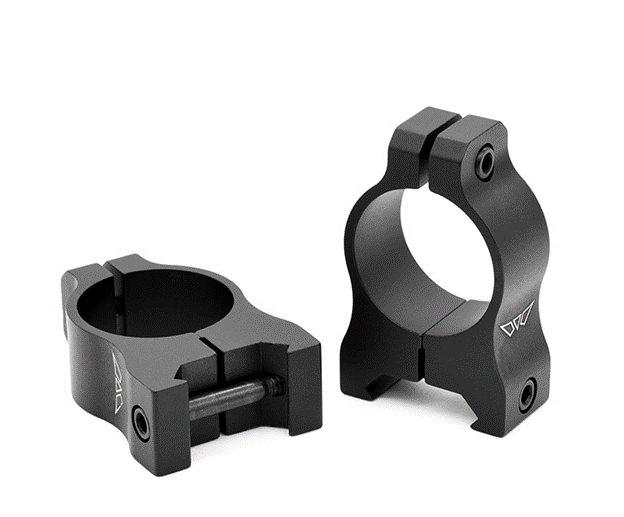 Our Vapor line of scope rings still offer impressive quality and performance. Vapor scope rings, such as these V401M rings, are made with lightweight aluminum for long-lasting strength. Like the Maxima verticals, they hold the scope like a hose clamp wrapping around and gripping the scope rather than sandwiching them. They are easy to install and at $31.49 for 1 inch and $36.99 for 30mm, they offer outstanding quality for a starting price point.
Made to fit on Weaver or Picatinny rails, they are easy to place for precision shooting. Like our other scope mounts and other products, they are made proudly in the U.S.A. and come with a lifetime warranty.
Let Warne Scope Mounts Help You
Shooting on a budget is not always easy, but not impossible. If that's what you have in mind, our shooting enthusiasts are ready to help you find low-cost options that don't come with painful sacrifices in quality or durability. We've been in business for more than 30 years and earned an impressive level of respect from hunters and gun lovers based on our product quality and customer service, and can't wait to help you move to the next step in your marksman skills.