1R7M Warne 1 inch Ruger M77, PA, Med Matte Rings
SKU:

1R7M

Brand:
Vertical Split.
Ruger Dovetail.
Fixed.
Description
Available in 1 inch 30mm size.
Ruger Model Specific fit Sold in pairs, Maxima Ruger rings are packaged in model specific configurations tofit Ruger's proprietary dovetail Warne's Maxima Maxima rings are a solid steel, vertically split ring that handle even the most punishing recoil, or large, heavy scopes. Since each firearm manufacturer has their own proprietary mounting rail design, each ring model must be machined to exacting tolerances for proper fit and function. Because of this, the Warne Ruger Rings are able to fit right onto the receiver's dovetail with no need for a mounting base. The Ruger Fixed Rings are available the tapered receiver style like the Ruger M77, Hawkeye & Super Redhawk. The Ruger M77 style rings are packaged as two different heights to accommodate the tapered mounting surface on this firearm. Ruger Fixed Rings utilize 4 T-15 Torx style socket cap screws for secure and permanent optics mounting.
Permanently attaches to firearms's dovetail.
Ruger specific scalloped recoil control key for positive engagement of ring to receiver dovetail.
Rings securely mount around scope using 4 Torx style T-15 socket cap screws.
Specifications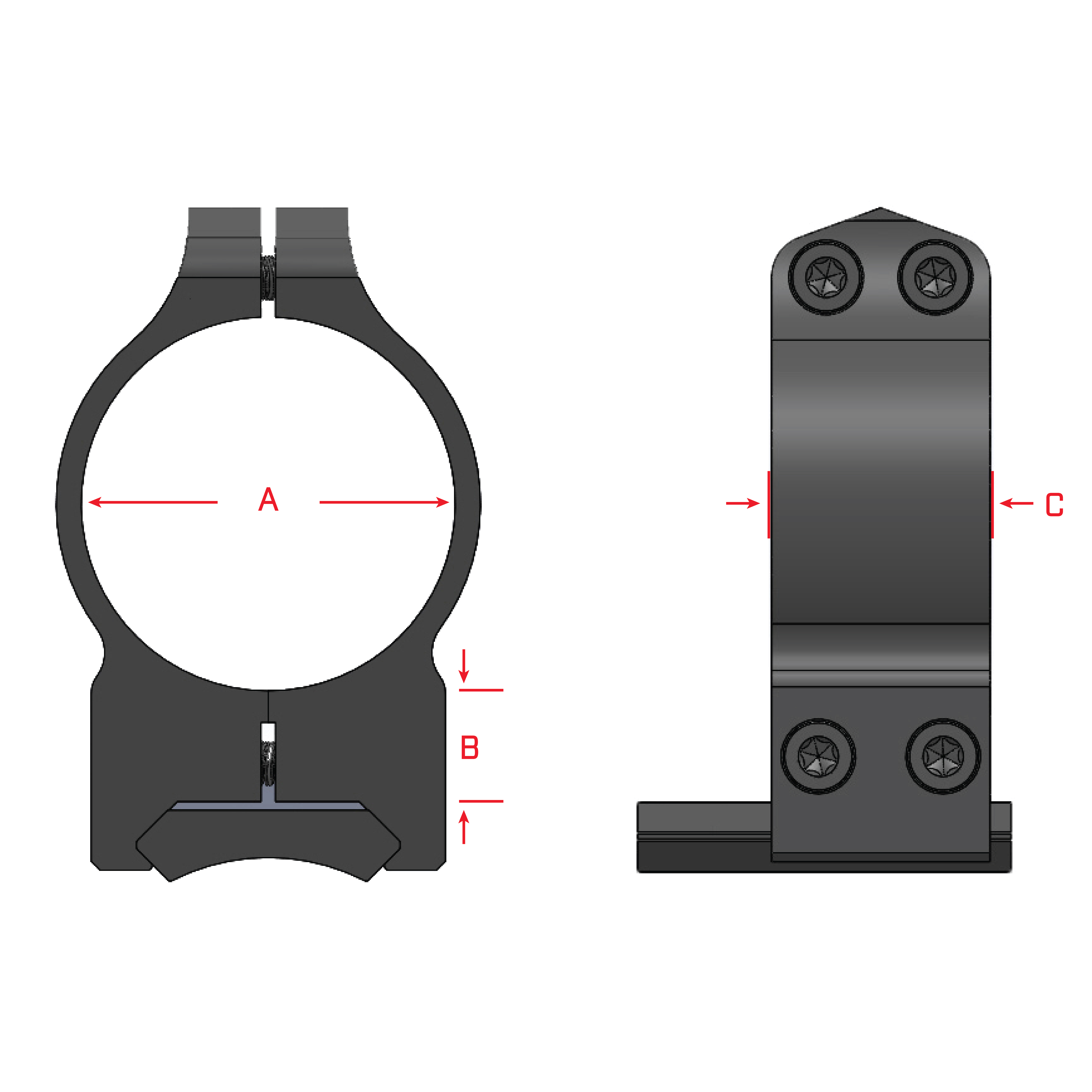 Part Number:
1R7M
Fits Objective Size:
42mm
Height:
Medium
Dimension A:
1 inch
Dimension B:
0.460 inch
Dimension C:
0.705 inch
Finish Color:
Matte Black
Weight:
6.0 oz
Material:
Steel
Fits Objective Up To:
42mm
Scope Tube Diameter:
1 inch
Fits:
Ruger M77
Installation

Instructions

Always verify that your firearm is UN-LOADED before performing any service on it. Warne recommends that you loosely assemble rings and scope onto firearm prior to final mounting to verify eye relief and ring spacing.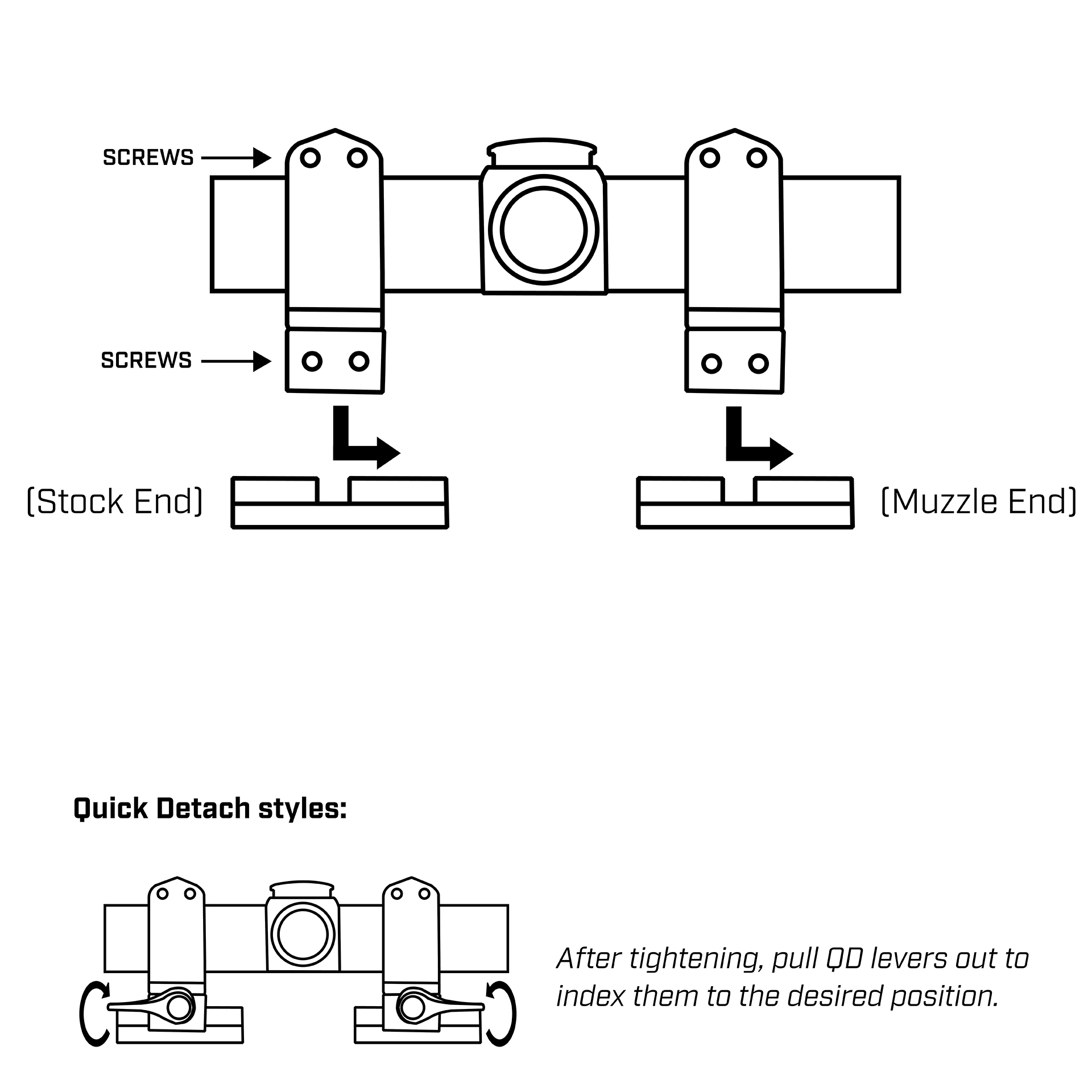 Remove the 4 screws from both rings.
Place the scope in the ring halves and re-insert recoil key (CZ & Ruger rings do not have specific recoil keys and utilize an integrated recoil management system)
Start all 4 screws on both rings and tighten only the bottom screws to 25in/lb* max.
Place rings onto the bases with the recoil keys in the slots and push each ring towards the muzzle to seat the recoil key
Adjust eye relief and level the reticle and tighten only the bottom screws to 25in/lb* max.
*Torque Spec are for dry threads, DO NOT USE THREAD-LOCKER COMPOUND
**Many scope manufacturers' have established specific torque ratings for their scope and you must follow their recommended torque.
IMPORTANT: NEVER OVER TIGHTEN ANY BASE OR RING SCREW. NEVER ATTACH A SCOPE IF THE OBJECTIVE TOUCHES THE BARREL OR CAUSES INTERFERENCE WITH THE BOLT, SAFETY OR CYCLING OF THE ACTION. ALWAYS FOLLOW THE FIREARM OR SCOPE MANUFACTURERS' RECOMMENDED TORQUE SPECIFICATIONS. YOU ARE RESPONSIBLE FOR YOUR OWN GUNSMITHING METHODS.
If you are unsure or do not have the proper tools, please contact a gunsmith for assistance, Warne will not be held liable for stripped/damaged receivers or scopes.