Struggling with a decision between a one-piece vs two-piece scope base? Warne Scope Mounts can help.
You may shop for a rifle and scope based on different needs, or different style and personal preference. Eventually you will need to join the two in a reliable, stable way that ensures you can properly line up a shot and hit your target and stay on target and never have to second guess your gear while you are hunting or sport shooting.
Fortunately, you have plenty of options for mounting a scope to your rifle. They generally come in two categories: One-piece and two-piece. They use the same naming logic as women's swimsuits, and they both offer unique advantages.
Determining which is the best option for you requires thinking about several things, from your build to your favorite shooting activity. Making those considerations will point you to the answer that works best for you.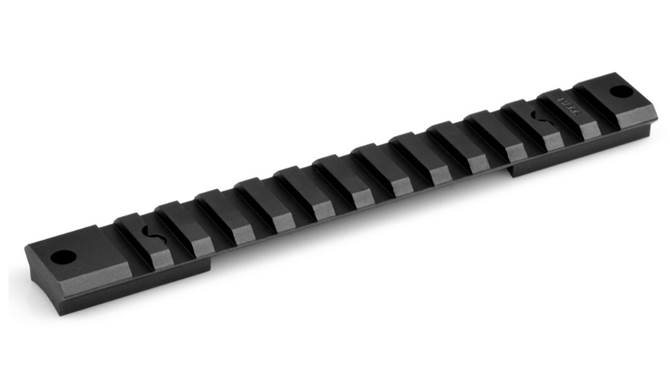 One-piece scope bases
As the name implies, one-piece scope mounts feature one block of material. Typically, these are a Picatinny rail machined for your specific firearm. Most offer several mounting positions which is favorable if you use a certain kind a scope where you can't get the proper eye relief using a two-piece scope mount with limited mounting positions. They include more versatility and combined strength - these are better suited for carrying larger scopes or other accessories.
The disadvantage of the one-piece scope bases is some rifles have either a "Blind Mag" or a "Hinge Floor Plate" which require you to load your rifles from the breech. A one-piece scope base can sometimes get in the way of speed loading verses a 2-piece base.
They also weigh and cost a little more than two-piece bases made of the same material because of the added material and machining. Two-piece scope rings
The two pieces in two-piece scope bases are significantly smaller than their one-piece cousins. Because they are so much smaller, they do not stand out like the one-piece Picatinny rail making them look sleek and more formed to the rifle and even elegant in appearance. A good choice for bolt-action rifles, their size also leads to reduced weight which matters if your counting ounces for a lightweight rifle.
The only real disadvantage of a two-piece scope base is having fewer mounting positions for your rifle scope. Most scopes are designed to work with the most common rifle actions however there is a vast variety of specialty scopes with shorter tubes and different eye reliefs available making it necessary to go with a one-piece base.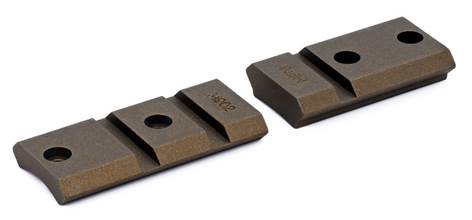 What's best for you?
Determining which one is the best for you depends on several factors:
Your rifle's configuration or available rails. A particular rifle may not lend itself to the use of one option, based on the size of the receiver or the handgrip.
Your scope size. If you are opting for a larger objective length, then a one-piece mount may be a more practical solution.
Your build's weight. This is especially for hunters, who are on the move. Two-piece scope bases weight less.
At Warne Scope Mounts, we can help you make that decision. We have helped shooting enthusiasts like you find high-quality scope mounts, scope bases, rails and more since 1991, and we have earned an outstanding reputation for quality and service. So, contact us today: Our customer service experts have plenty of experience shooting and will be happy to help you point you toward the scope base that best meets your needs. With Warne Scope Mounts, you'll gain confidence in every shot.