7901M Precision Bipod, Pic Rail Interface
SKU:

7901M

Brand:

Shipping:

DUE TO SUPPLY CHAIN ISSUES ITEM MAY SHIP WITH ALTERNATE FOOT SHOWN IN CLOSE UP
Adustable from shooting position.
Rapid Leg Deployment.
Competition Ready.
Description
Picatinny or ARCA versions available.
DUE TO SUPPLY CHAIN ISSUES ITEM MAY SHIP WITH ALTERNATE FOOT SHOWN IN CLOSE UP
Bipod Perfection Achieved The Warne Skyline Precision Bipod is the most functional, ergonomic and strongest bipod on the market today. Designed to attach to your picatinny rail, the Skyline bipod allows the shooter to make quick, one-handed height adjustments, as well as smooth cant and panning ability for use on uneven terrain or less than ideal positions.
Patent Pending Design
Quickly attaches to any Picatinny Type Rail
One Hand adjustability
Rapid leg deployment from horizontal to 90°
3 Position Leg Rotation: 0°, 45°, 90°
Leg Extension Min Height 6.9 inch/Max Height 9.1 inch
22° Total Cant/44° Total Pan
Weighs 16.5 oz
ARCA Swiss Rail Bipod pn 7902M
Designed and MADE IN USA
Specifications
Part Number:
7901M
Finish Color:
Matte Black
Weight:
16.5 oz
Material:
7075 Aluminum
Fits:
Picatinny Rail
Installation

Instructions

Always verify that your firearm is UN-LOADED before performing any service on it. Warne recommends that you loosely assemble rings and scope onto firearm prior to final mounting to verify eye relief and ring spacing. ONLY ADJUST BIPOD WITH MUZZLE POINTING IN A SAFE DIRECTION, DOWN RANGE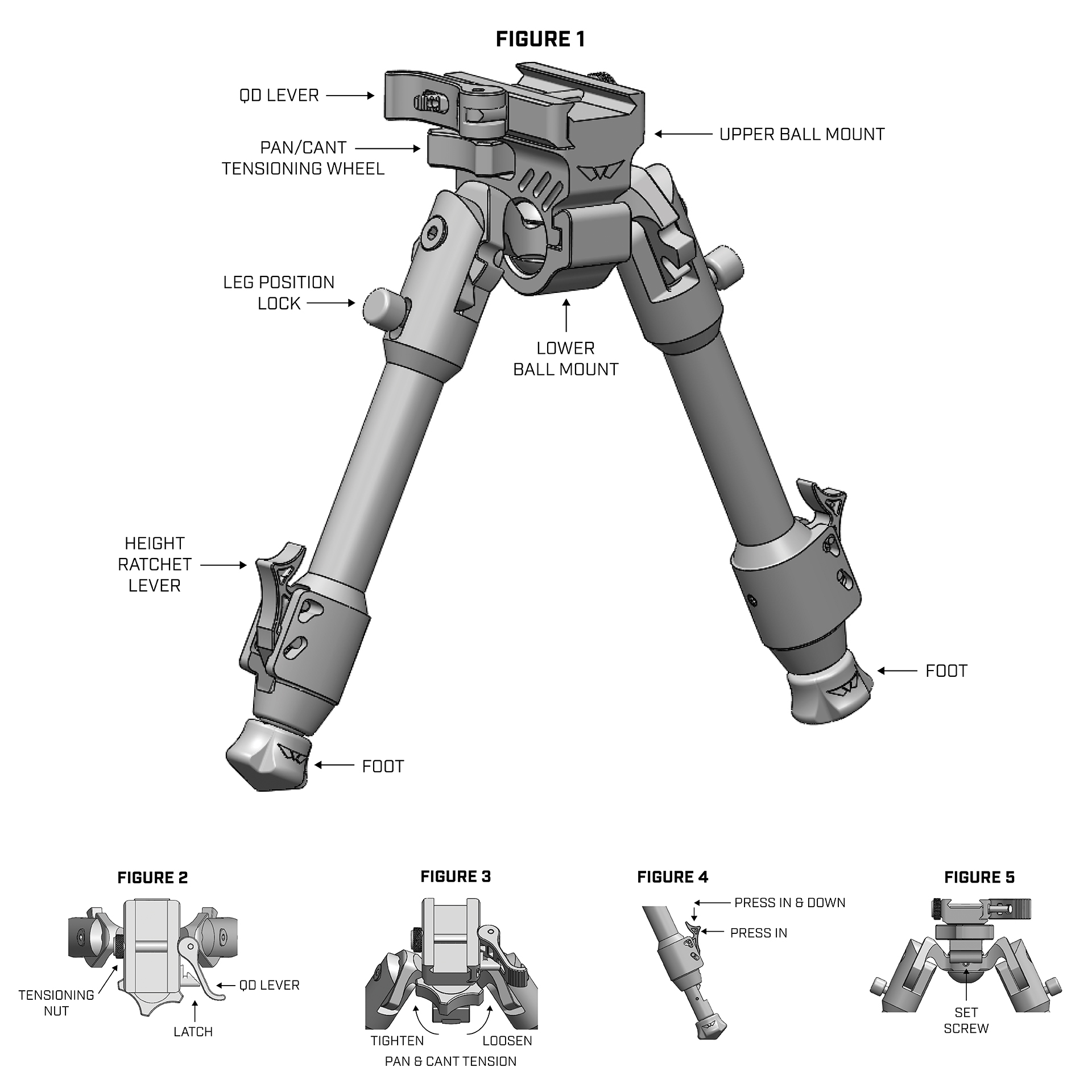 ONLY INSTALL OR ADJUST BIPOD WITH MUZZLE POINTING IN A SAFE DIRECTION, DOWN RANGE.
Loosen QD Lever on the Bipod mount and install on your firearm's rail with the logo facing forward (towards the muzzle).
Slowly begin closing the QD lever and adjust tensioning nut until the lever just meets the latch with minor resistance. See figure 2
Close the lever, latch should "click" into lever with a moderate push and the Bipod will feel secure on the rail.

Warne recommends that you periodically check lever tension and adjust as needed, also re-adjust if mounting on different firearm(s).

Using the Bipod: Rapid Deploy legs can easily lock at 90° from a resting position by pushing them down; legs can be adjusted by pressing down and holding the leg position lock and rotating to 0°, 45° or 90°, release lock and legs will lock at one of the three positions. See Figure 1
To extend the Bipod legs, simply pull out to desired height, legs can be retracted one position at a time by pressing in on the height ratchet lever. To fully retract legs, press in on the ratchet lever AND while holding in, press down to retract. See Figure 4
Pan and cant tension is adjustable, to adjust the tension (ease of movement) in the ball head, rotate the pan/cant tension wheel left to tighten and right to loosen. See Figure 3
Disabling Pan Feature: Verify Bipod head is at 0°, (logo is facing forward, no pan angle).
Turn pan/cant tension wheel to the right until tension wheel screw comes out, set tension wheel and screw aside.
Press down on rear edge of lower ball mount and it will separate from top half, pan lockout set-screw will now be visible. With a 3/32nd allen, tighten set screw snug. See Figure 5
Re-attach lower ball mount by hooking latch over front of upper ball mount, press up and into place. See Figure 1
Insert tension wheel and screw, turning left until desired tension is applied to the ball head. Confirm tension wheel screw fits into square notch on lower ball mount.
IMPORTANT: NEVER OVER TIGHTEN ANY BASE OR RING SCREW. NEVER ATTACH A SCOPE IF THE OBJECTIVE TOUCHES THE BARREL OR CAUSES INTERFERENCE WITH THE BOLT, SAFETY OR CYCLING OF THE ACTION. ALWAYS FOLLOW THE FIREARM OR SCOPE MANUFACTURERS' RECOMMENDED TORQUE SPECIFICATIONS. YOU ARE RESPONSIBLE FOR YOUR OWN GUNSMITHING METHODS.
If you are unsure or do not have the proper tools, please contact a gunsmith for assistance, Warne will not be held liable for stripped/damaged receivers or scopes.