At Warne Scope Mounts, we have more than 30 years of experience developing mounting solutions. One of the reasons we have a high amount of respect in the industry is for our work designing cantilever scope mounts. We were one of the first to develop them, and since then, our cantilever-style scope mounts have earned a lot of praise from shooting enthusiasts across the world. They are considered one of the best types of scope mounts available, and for good reason.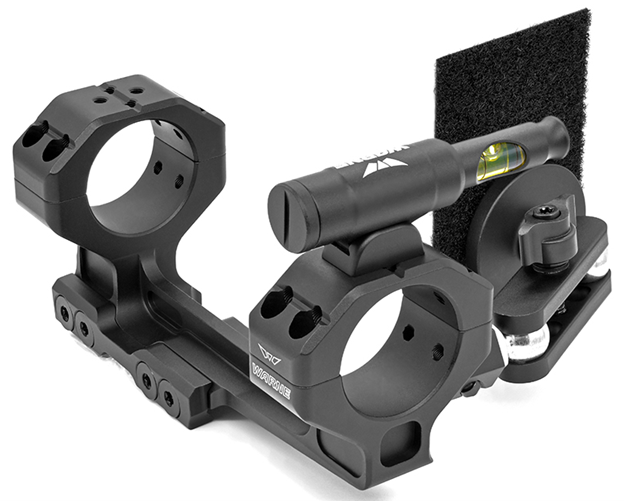 What is a Cantilever Scope Mount?
A cantilever scope mount is a one-piece mount with rings connected to the base with one of the rings extending forward past the receiver and over the barrel made to be attached to Weaver style picatinny rail. This was created as mounting solution for the popular AR15 style rifle which was originally designed to use a raised open iron sighting system due to its linier operation system.
Due to Ar15s ability to be very accurate at longer distances and becoming a popular sporting rifle, there was a demand to be able to mount a scope on them. Colt introduced the flat top upper receiver which uses a picatinny rail rather than an A1 or A2 carry handle. This made way for several new options for the ar15 style rifle starting with the ability to mount a scope and later back up iron sights and red dot optics.
At first there were not many mounting solutions available. Shooters had to buy extra high rings and they were not able to get the best eye relief because of the limited mounting space on the receiver. For some it made it harder to reach the charging handle to operate the rifle quickly. A solution needed to be found.
Cantilever mounts give you the ability to position the scope where you need it to be for proper eye relief and gives you rail space that would otherwise go unused.
Along came the cantilever scope mount which would take less space on the rifle's receiver allowing shooters to mount a secondary optic like a backup iron sight or reflex red dot optic using a A645 45-degree mount. This also allowed for the scope to be mounted at the correct cheek weld with more eye relief as well as making charging handle easier to operate.
Being a 1-piece design made it very solid and durable to take the kind of beating that a sporting rifle would be subject to such as in competitions as well as law enforcement and military use. Being a one-piece design the scope and mount could be quickly removed by using a Warne quick disconnect system to quickly switch out optics, use back up sights, use of other optics like red dots or for easier storage in a crowded gun safe.
Our XSKEL Cantilever mounts are engineered to be lightweight by putting more material where it needs to be and less where it is not using a SKELeton design that is lighter and still more durable than it needs to be providing confidence in every shot.
Here to Help
Because our company has been around cantilever scopes from the beginning, our staff members are some of the most qualified, knowledgeable, and familiar people to answer your questions about them. So, contact us today! We love talking to shooting enthusiasts, and we'd love to hear about your build. We'll help you get the most out of it, shot after shot.