Scope Rings Buying Guide - What Kind Do You Need
You have just bought a new scope for your rifle and now it's time to join them together. You will need a scope base and a set of scope rings to do this. It is important to get the right bases and a good set of rings that will keep you on target. Most bases are rifle specific. A set of bases for a Remington 700 will not work for Winchester model 70.
If you are looking for a scope mount for an AR15 check out our post Best Scope Mounts for AR-15 Style Rifles and consider a one-piece mount.
Generally, you will want to mount the scope as close as you can to the bore without the scope touching the rifle. If the objective bell touches the barrel and the barrel whips while firing which they do, then it could affect your zero and even damage your scope.
Using the Warne Scope Mounts Ring finder tool on our website you simply select rifle then Filter by "Scope Tube Diameter" then select the size of your objective "Fits Objective Up To" then you will see rings that are the right height for your rifle and scope and then it's a matter of which set of rings would be best for you.
If you do not want to use our part finder tool, there is a mathematical way to figure it out read about it here How to Calculate the Right Scope Ring Height
Scope ring advantages
At Warne Scope Mounts, all our scope rings are made from premium materials here in the U.S. to ensure quality in performance and durability. They are built to withstand the repeated recoil from your favorite rifle and give you long-lasting grip.
Scope rings buying guide
Scope rings have one job: Hold the scope securely shot after shot but scope rings must be selected based on your build, or they will lead to disappointment. When shopping for scope rings, consider the following:
The size of your scope's objective lens. The bigger the glass mean more light transmission for higher magnifications. You should choose a height that enables the scope to run parallel to the bore line while being as close to it as possible without touching the barrel.
The diameter of your scope's tube. Usually, it is an inch or 30 mm, but there are other sizes. Your rings need to fit that diameter perfectly.
Your rail. You need to know if it is a Weaver, Picatinny or something else. Or perhaps you have something that requires the scope to be attached directly to the rifle.
Once you know those key details, you can shop our different product lines, based on the type of shooting you enjoy:
Our Mountain Tech line is lightweight and rugged for handling the elements. They are made from 7075 aluminum with stainless steel screws.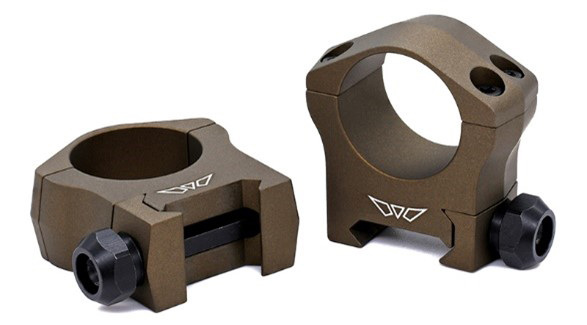 Warne Mountain Tech Scope Rings




Maxima scope rings "strong as steel" for premium performance. We have them with vertical hose clamp stye grip for a super hold in QD and non QD and traditional horizontal style precision engineered to be as just as tough at keeping you on target.

Warne Maxima Scope Rings





Our MSR & Skyline scope mounts are built to handle the higher demands and applications sought by law enforcement and military personnel. These are the best scope rings for long-range precision performance

Warne MSR and Skyline Scope Mounts




Whatever you choose, you won't be disappointed with Warne quality. We've been helping shooting enthusiasts like you for over 30 years gain confidence in every shot with high-quality products that are made in the U.S.