QDXSKEL34TW QD XSKEL 34mm Black
SKU:

QDXSKEL34TW

Brand:
Steel Threaded Inserts for Cap Screws.
Over 2 inches of forward Cantilever.
Quick Detach.
Description
Available in 1 inch, 30mm and 34mm size.
Warne's 1 piece QD XSKEL cantilever mount features Patent Pending Dual Quick Detach levers and is constructed from 6061 T6 aluminum for a lightweight and rigid foundation. Steel threaded inserts ensure steel on steel contact between all threaded interfaces, and MSR Ideal Height helps the shooter maintain a proper cheek weld and shooting position with any optic on flat top guns. The QDXSKEL gives you a generous forward cantilever for modern scopes while reducing weight with its skeletonized design, and the Return-to-Zero performance that Warne is known for.
Specifications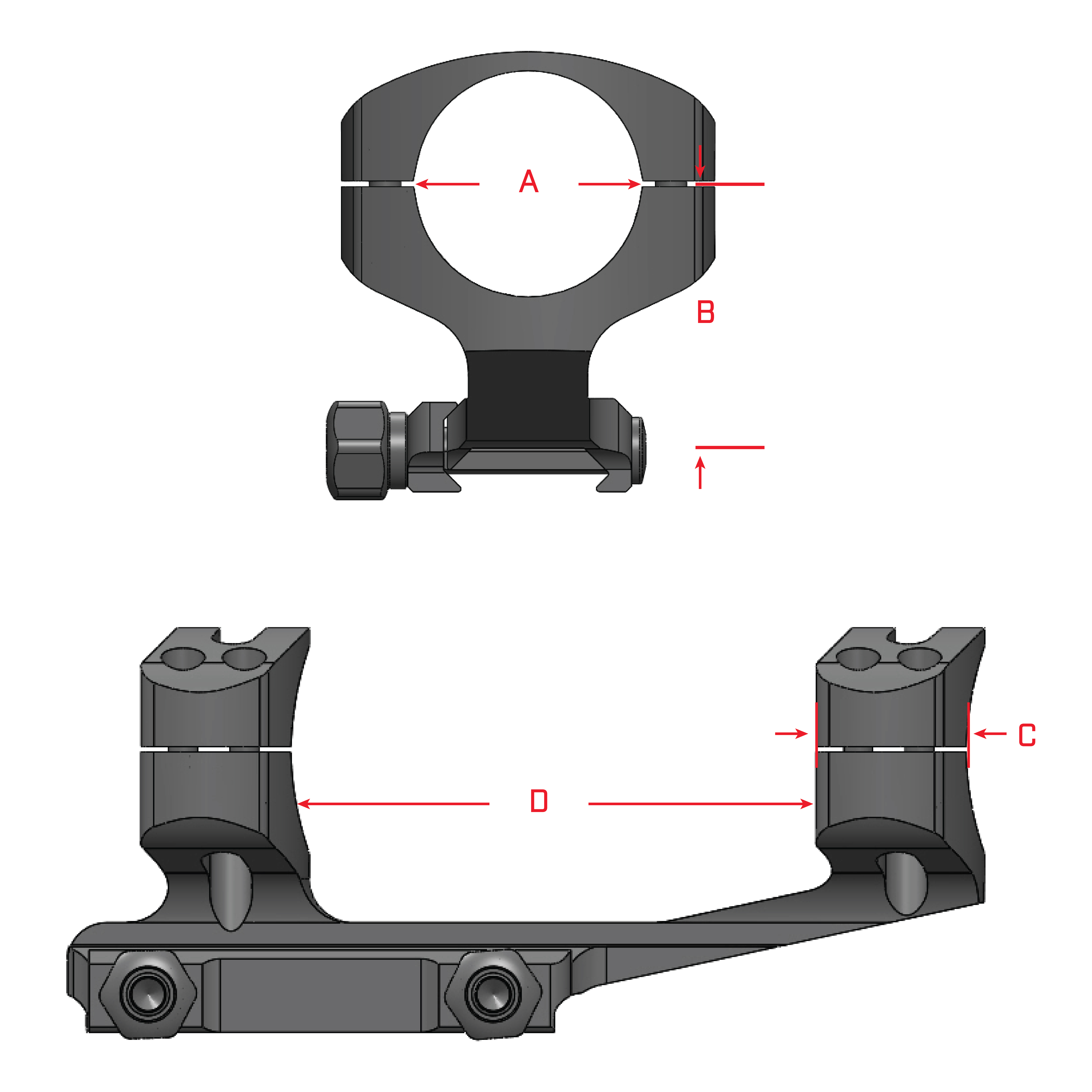 Part Number:
QDSKEL34TW
Fits Objective Size:
72mm
Height:
MSR Ideal Height
Dimension A:
34mm
Dimension B:
1.43 inch
Dimension C:
.750 inch
Dimension D:
3.05 inch
Finish Color:
Matte Black
Weight:
8.5 oz
Material:
Aluminum
Scope Tube Diameter:
34mm
Fits Objective Up To:
MSR Ideal Height
Installation

Instructions

Always verify that your firearm is UN-LOADED before performing any service on it. Warne recommends that you loosely assemble rings and scope onto firearm prior to final mounting to verify eye relief and ring spacing.
Due to small variances in rail dimensions, Warne® recommends that you first adjust the lever tension to your rail prior to scope mounting.
Adjusting the QD Lever Tension: Place the QD X-SKEL onto your firearm's rail*. One at a time, slowly begin closing the QD levers and adjust tensioning nuts until the levers just meet the latch with minor resistance. (see figure 2) Warne recommends that you periodically check lever tension and adjust as needed, also re-adjust if mounting on a different firearm(s).
Close the lever, latch should "click" into lever with a moderate push and the Bipod will feel secure on the rail.

*Warne® recommends installing the mount with the cantilever forward and the front cross bolt in the farthest forward slot on AR15 Flat Tops.

Mounting Instructions: Loosen both QD levers on the QD X-SKEL mount and install on your firearm's rail.
Push the mount towards the muzzle until it stops and close the levers. Latch should "click" into levers with a moderate push and the mount will feel secure on the rail.
Remove the four cap screws from each top cap with the supplied T-15 wrench and remove the top caps and place your scope in the mount and replace the top caps and screws. Do not use thread locking compound on cap screws - this will cause the steel threaded inserts to back out of the caps.
Slowly tighten* cap screws evenly and leave loose enough to adjust for eye relief and level the reticle.
Tighten the cap screws in a criss-cross pattern to scope manufacturers' recommended torque rating**, 25 in/lb maximum.
*Torque Spec are for dry threads, DO NOT USE THREAD-LOCKER COMPOUND
**Many scope manufacturers' have established specific torque ratings for their scope and you must follow their recommended torque.
IMPORTANT: NEVER OVER TIGHTEN ANY BASE OR RING SCREW. NEVER ATTACH A SCOPE IF THE OBJECTIVE TOUCHES THE BARREL OR CAUSES INTERFERENCE WITH THE BOLT, SAFETY OR CYCLING OF THE ACTION. ALWAYS FOLLOW THE FIREARM OR SCOPE MANUFACTURERS' RECOMMENDED TORQUE SPECIFICATIONS. YOU ARE RESPONSIBLE FOR YOUR OWN GUNSMITHING METHODS.
If you are unsure or do not have the proper tools, please contact a gunsmith for assistance, Warne will not be held liable for stripped/damaged receivers or scopes.