XSKEL1DE Gen 2, Extended Skeletonized 1 inch MSR Mount, Dark Earth
SKU:

XSKEL1DE

Brand:
MSR Ideal Height.
Over 2 inches of forward Cantilever.
Steel Threaded Inserts for Cap Screws.
Description
Available in 30mm and 34mm size.
The Warne Tactical XSKEL1DE Gen 2 mount for MSRs (modern sporting rifles) from Warne Scope Mounts is one of our SKEL series Warne MSR mounts with skeletonized design for a lighter-weight riflescope mount. This MSR 30mm X-SKEL scope mount in a dark earth finish has an extra two inches of forward cantilever plus sturdy one-piece side clamp for durability. We installed steel-threaded inserts for the cap screws to complete the rigid platform.
Designed to have the "ideal height" for Modern Sporting Rifles, the X-SKEL from Warne Scope Mounts places the optic at the proper height and forward position for proper eye relief for LPVOs and all variable and fixed scopes. On MSR platforms. This Gen II Edition has all the features you need.
The XSKEL Mount offers a lightweight scope mounting solution for your MSR-style firearm with the same durable, return-to-zero reputation that you've come to expect from Warne.
This mount is CNC precision-machined from 6061 T6 aluminum. The skeletonized design of the body and ring caps reduce the weight by more than 30 percent, compared to similar mounts.
The extra cantilever provides proper eye relief when using a low power variable optic (LPVO). It will create extra space behind the mount for side mount adapters and other accessories.
Our Made-in-America scopes and mounts are designed by shooters for shooters. All Warne Scope Mount products carry our quality guarantee against damage or defects for the life of the product.
High quality scopes and mounts, and exceptional customer service, have made us America's go-to store for modern sports rifle owners. Feel the confidence in every shot.
Features:
More than 2 inches of forward cantilever
"Ideal height" for MSR
Skeletonized body, ring caps for lighter-weight mount
Steel-threaded inserts for cap screws
CNC precision-machined from 6061 aluminum
Limited lifetime warranty against damage, defects
Specifications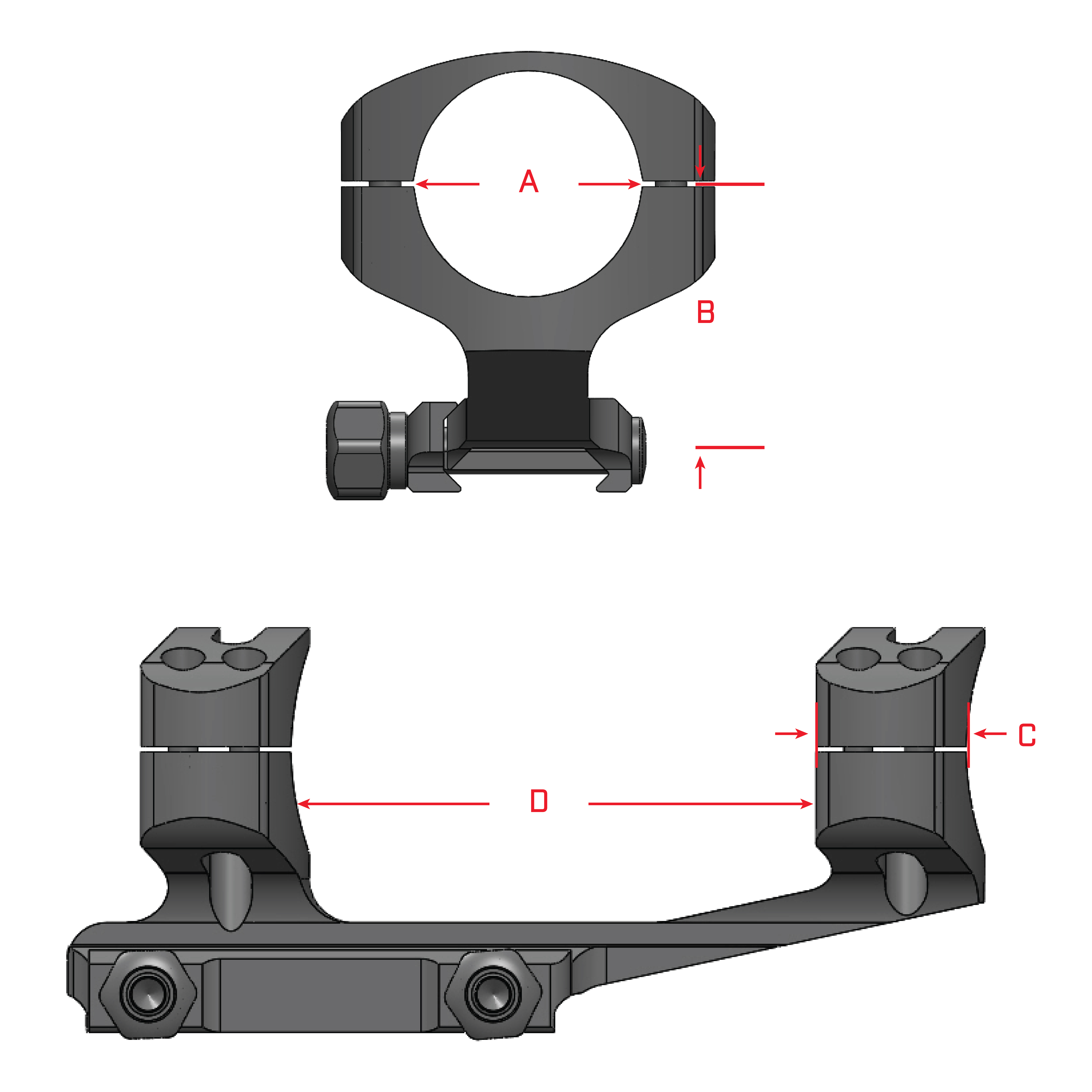 Part Number:
XSKEL1DE
Fits Objective Size:
72mm
Height:
MSR Ideal Height
Dimension A:
1 inch
Dimension B:
1.43 inch
Dimension C:
.750 inch
Dimension D:
3.05 inch
Finish Color:
Dark Earth
Weight:
6.7 oz
Material:
Aluminum
Scope Tube Diameter:
1 inch
Fits Objective Up To:
MSR Ideal Height
Installation

Instructions

Always verify that your firearm is UN-LOADED before performing any service on it. Warne recommends that you loosely assemble rings and scope onto firearm prior to final mounting to verify eye relief and ring spacing.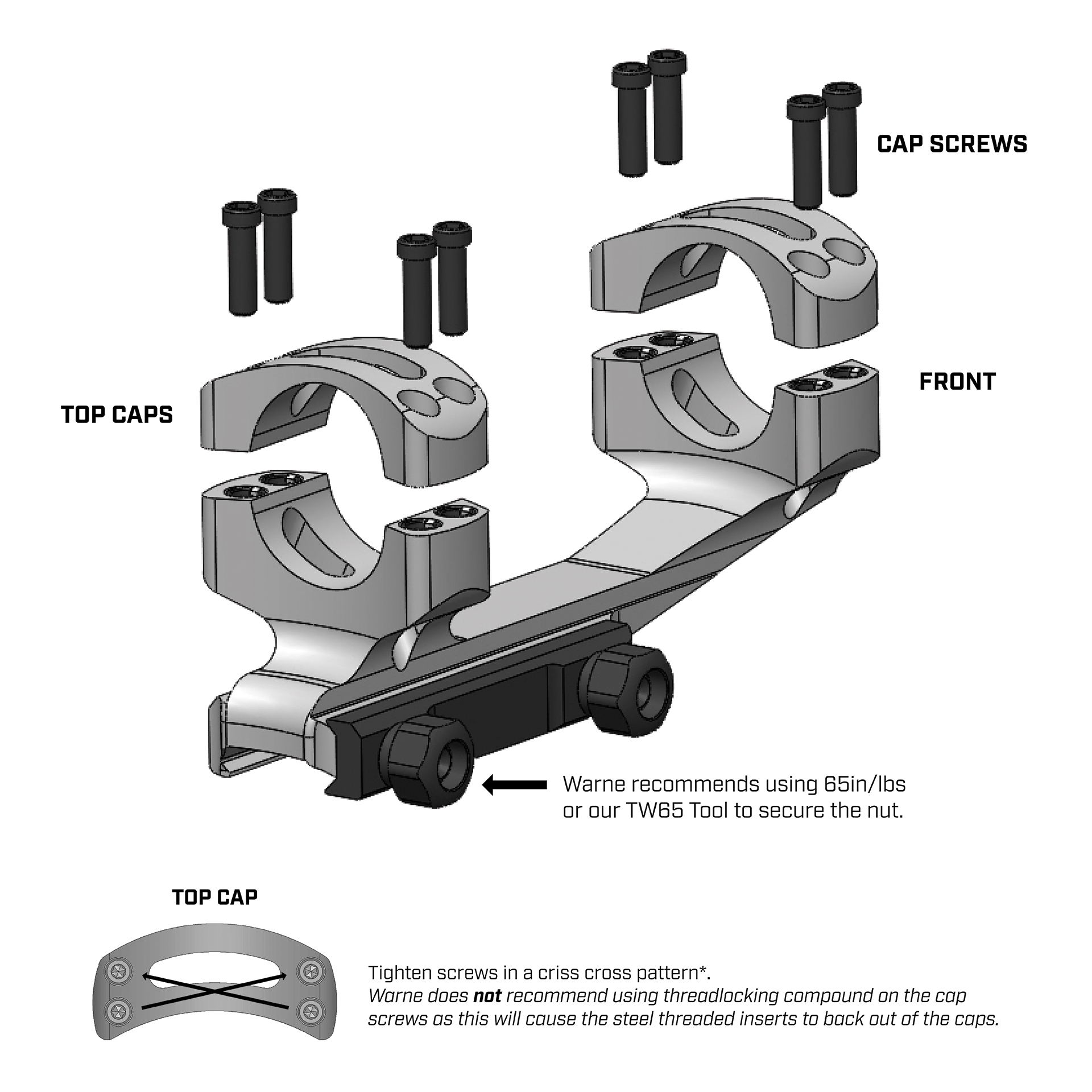 Loosen both nuts on the mount and install on your Picatinny style rail with the cantilever forward
Warne recommends mounting the 1 piece with the front cross bolt in the farthest forward slot on AR15 Flat Tops.
Push the mount towards the muzzle and tighten both hex nuts to 65 in/lb maximum.
Remove the four cap screws from each top cap with the supplied T-15 wrench and remove the top caps.
Place scope in rings and reinstall cap screws*, leave loose.
Adjust scope position for eye relief and level reticle.
Tighten the cap screws in a criss-cross pattern to scope manufacturers' recommended torque rating**, 25 in/lb maximum.
*Torque Spec are for dry threads, DO NOT USE THREAD-LOCKER COMPOUND
**Many scope manufacturers' have established specific torque ratings for their scope and you must follow their recommended torque.
IMPORTANT: NEVER OVER TIGHTEN ANY BASE OR RING SCREW. NEVER ATTACH A SCOPE IF THE OBJECTIVE TOUCHES THE BARREL OR CAUSES INTERFERENCE WITH THE BOLT, SAFETY OR CYCLING OF THE ACTION. ALWAYS FOLLOW THE FIREARM OR SCOPE MANUFACTURERS' RECOMMENDED TORQUE SPECIFICATIONS. YOU ARE RESPONSIBLE FOR YOUR OWN GUNSMITHING METHODS.
If you are unsure or do not have the proper tools, please contact a gunsmith for assistance, Warne will not be held liable for stripped/damaged receivers or scopes.