Description
Includes .180 inch spacer.
With the increasing number of electro optics being used, finding a compatible mounting system can be confusing. We designed our modular Red Dot Riser to fit a wide range of different optics based on the mount footprint. This Reflex Sight Riser is designed to offer easy height adjustments with the included spacer, allowing the user to dial in the perfect height for their optic and rifle combination. All riser mounts that we offer share a robust mounting base, while the top is engineered specifically for different red dot styles. Fits:
Burris Fast Fire 2 & 3
CMORE RTS & STS
Doctor
Eotech MRDS
Holosun 507c/407c V1 versions
Holosun 507c/407c V2 versions
Insight MRDS
Leupold Delta Point
Leupold Delta Point Pro
Shield RMS
Sig Romeo 3
Sig Romeo 3 Max
Sig Romeo 3 XL
Trijicon RMR
TrueGlo
UTG Reflex Micro Dot
Vortex Razor
Vortex Venom
Vortex Viper
And others with same hole pattern(s)
All risers include a .180" thick spacer
Designed and MADE IN USA
Specifications
Part Number:
A6103M
Weight:
3.0 oz
Fits:
Burris Fast Fire 2 & 3, CMORE RTS & STS, Doctor, Eotech MRDS, Holosun 507c/407c V1, 507c/407c V2, Insight MRDS, Leupold Delta Point & Delta Point Pro, Shield RMS, Sig Romeo 3, 3 Max, 3 XL, Trijicon RMR, TrueGlo, UTG Reflex Micro Dot, Vortex Razor, Ve
Installation

Instructions

Always verify that your firearm is UN-LOADED before performing any service on it. Warne recommends that you loosely assemble rings and scope onto firearm prior to final mounting to verify eye relief and ring spacing.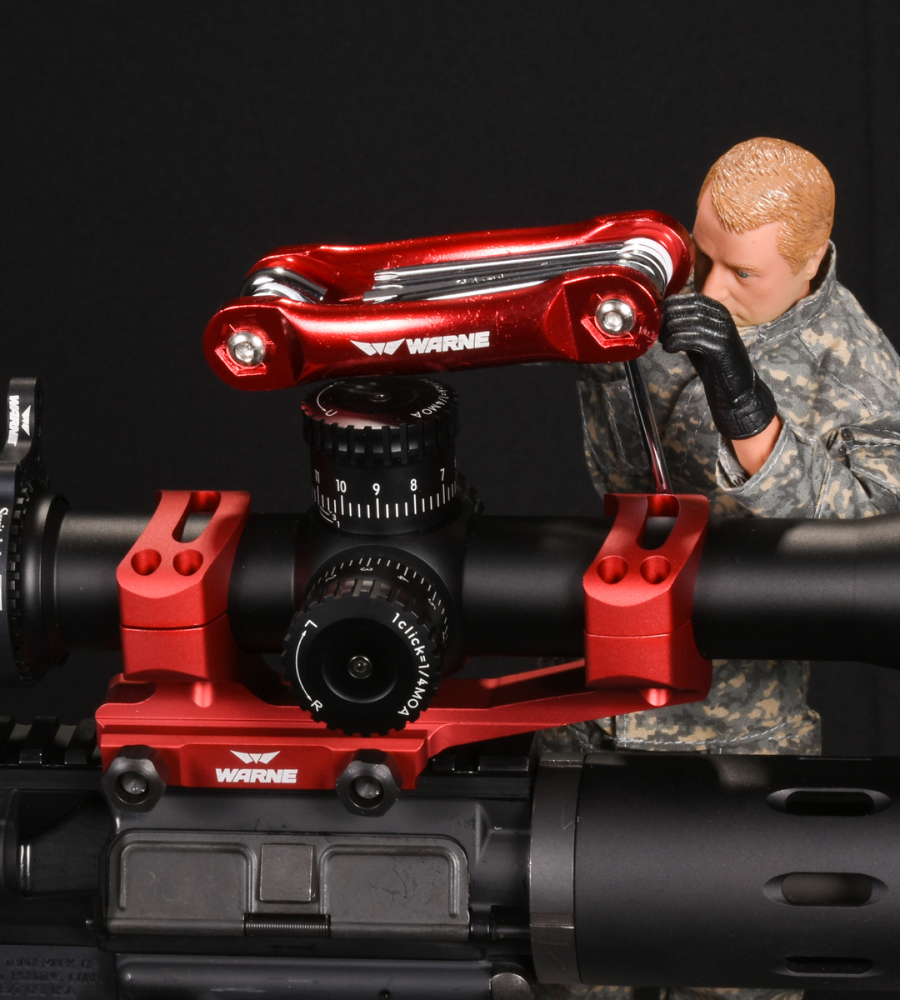 Assemble base and mount with supplied T-10 screws.
Orient the base nut to the right or left as desired on your rail and lay top plate on the base so that the arrow points towards the muzzle.
Remove assembly, starting on the underside of the base insert supplied T-10* screws up through the bottom & loosely tighten all 4 screws and continue to tighten to a max of 10 in/lb
Place mount on rail and tighten nut to a max of 65 in/lb.
Install reflex sight on to top plate aligning screw holes with top plate, tighten screws to reflex manufacturers recommended torque.
*Use longer screws with spacer plate, shorter screws w/o spacer
**Many scope manufacturers' have established specific torque ratings for their scope and you must follow their recommended torque.
IMPORTANT: NEVER OVER TIGHTEN ANY BASE OR RING SCREW. NEVER ATTACH A SCOPE IF THE OBJECTIVE TOUCHES THE BARREL OR CAUSES INTERFERENCE WITH THE BOLT, SAFETY OR CYCLING OF THE ACTION. ALWAYS FOLLOW THE FIREARM OR SCOPE MANUFACTURERS' RECOMMENDED TORQUE SPECIFICATIONS. YOU ARE RESPONSIBLE FOR YOUR OWN GUNSMITHING METHODS.
If you are unsure or do not have the proper tools, please contact a gunsmith for assistance, Warne will not be held liable for stripped/damaged receivers or scopes.