7217M Warne Mountain Tech 30mm, Ultra High Matte Rings
SKU:

7217M

Brand:
Lightweight.
Mil-Spec Hardcoat.
Stainless Steel Hardware.
Description
Available in 1, 30mm,34mm, 35mm and 40mm size.
Mountain rings from Warne Scope Mounts give you excellent performance out in the field.
Whether you are spending a day on the range or out in nature on a hunt, staying on target is a priority. You count on a powerful scope for targeting across long distances. But that scope must become one with your build, and doing that requires quality scope rings that can handle the kick of high-powered firearms without losing grip.
We engineered Warne Mountain Tech as a lightweight and rugged scope ring design that is equally at home on a mountain rifle or precision target rifle. Featuring 7075 aluminum construction and stainless hardware, these 7221M scope rings can withstand the punishing conditions Mother Nature can dish out.
Many shooters rely on scope rings because they are more economical and lightweight. As they say, ounces are pounds and pounds are pain. These expertly crafted rings are built to handle high recoil from shots, as well as bumps and jars that come from overland travel. Manufactured proudly in the U.S., we equip these rings with stainless steel hardware and use a mil-spec hardcoat anodized finish.
Precision CNC machined from 7075/T6 aluminum for a high strength & lightweight platform
Mil-Spec hardcoat anodized finish for abrasion and corrosion resistance.
Rings feature stainless steel hardware for "Element Proof" protection.
Mil-Spec 65 in/lb., 1/2" tactical nut attachments for securely clamping to the rail.
Fits Picatinny and Weaver style mounts and are NATO-STANAG compatible.
Available for 1", 30mm, 34mm, 35mm and 40mm tube sizes; in Low, Medium, High and MSR ideal height; For maximum compatibility with most scope/firearm combinations.
These 34mm rings are also available in other diameters, including 1-inch, 30mm and more. Contact our staff of shooting experts today to find the best set of scope rings for your needs.
Specifications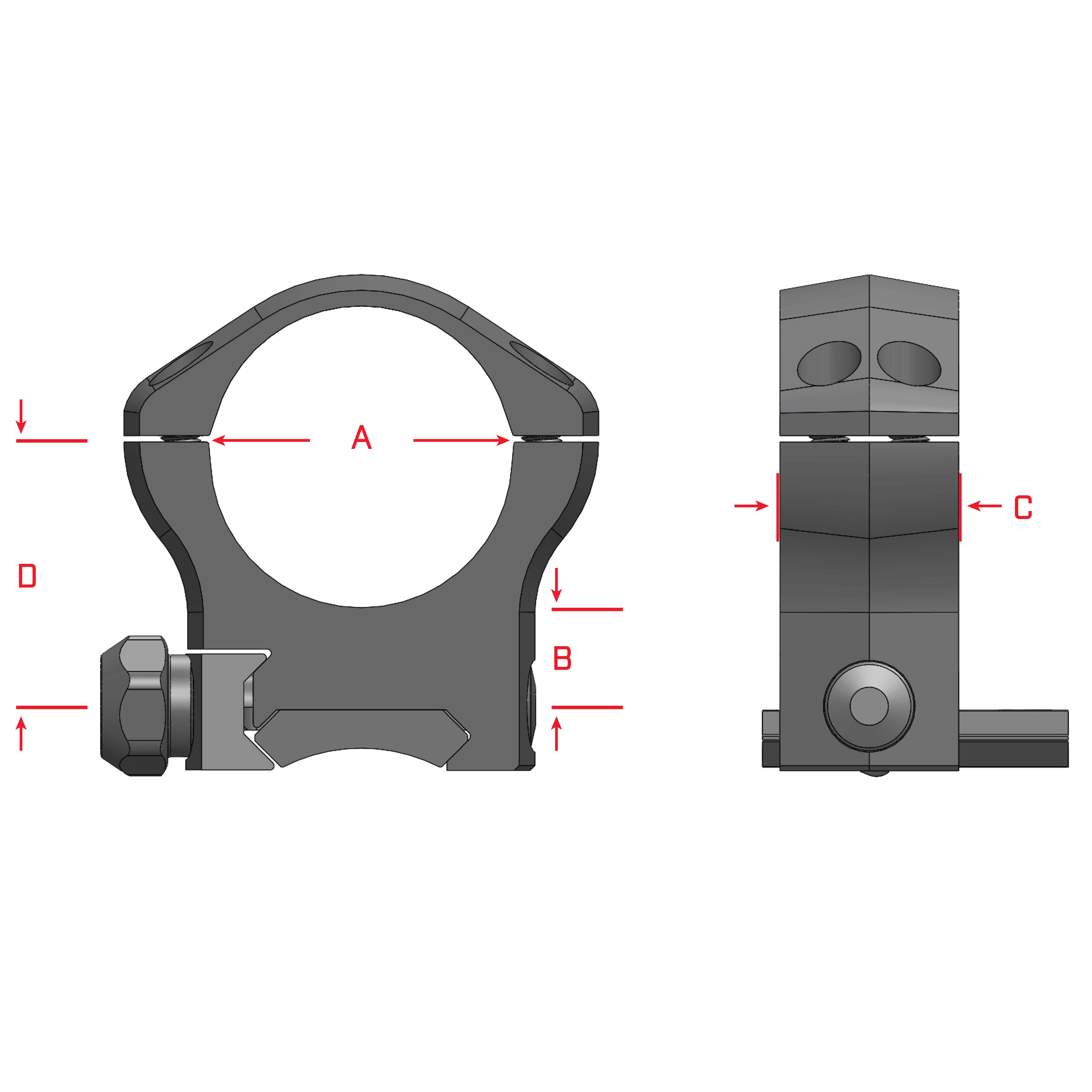 Part Number:
7217M
Fits Objective Size:
72mm
Height:
Ultra High
Dimension A:
30mm
Dimension B:
0.750 inch
Dimension C:
0.705 inch
Finish Color:
Matte Black
Weight:
5.1 oz
Material:
7075 Aluminum
Fits Objective Up To:
MSR Ideal Height
Scope Tube Diameter:
30mm
Fits:
Maxima/Weaver Bases and Picatinny Rails
Installation

Instructions

Always verify that your firearm is UN-LOADED before performing any service on it. Warne recommends that you loosely assemble rings and scope onto firearm prior to final mounting to verify eye relief and ring spacing.
Loosen both nuts on the Mountain Tech rings and install on your Mountain Tech rail or Maxima (weaver style) bases.
Slide each ring forward so the recoil lug is contacting the front of the cross slot. Torque the ring nut to 65 in/lbs maximum and repeat for the other ring.
Remove the four cap screws from each top cap with the supplied T-15 wrench and remove top caps.
Place your scope in the Mountain Tech rings and replace top caps and screws*
*Torque Spec are for dry threads, DO NOT USE THREAD-LOCKER COMPOUND
**Many scope manufacturers' have established specific torque ratings for their scope and you must follow their recommended torque.
To remove the scope, simply loosen the ½" nut and lift the scope off the mount, tilting slightly to the opposite side of the nut. To re-mount the scope, simply place the rings into the slots the scope was originally mounted in, slide the rings and scope forward until the recoil lugs contact the front of the slot, and tighten the ½" nut. NOTE: The ½" tactical nut screw assembly is pre-set at the factory and does not require any adjustments. Tampering with this screw can cause improper function of the scope rings.
IMPORTANT: NEVER OVER TIGHTEN ANY BASE OR RING SCREW. NEVER ATTACH A SCOPE IF THE OBJECTIVE TOUCHES THE BARREL OR CAUSES INTERFERENCE WITH THE BOLT, SAFETY OR CYCLING OF THE ACTION. ALWAYS FOLLOW THE FIREARM OR SCOPE MANUFACTURERS' RECOMMENDED TORQUE SPECIFICATIONS. YOU ARE RESPONSIBLE FOR YOUR OWN GUNSMITHING METHODS.
If you are unsure or do not have the proper tools, please contact a gunsmith for assistance, Warne will not be held liable for stripped/damaged receivers or scopes.