7825M 1 PC Precision Cantilever Mount, 34mm MSR
SKU:

7825M

Brand:
Ideal Height for Gas Guns.
2 Integral Recoil lugs.
Generous 2 inch cantilever.
Description
10 Accessory Mounting Locations.
The Warne® Skyline® Precision Cantilever Mount has been engineered from the ground up with the MSR rifle shooter/competitor in mind. Machined from 7075 T6 aluminum billet, and featuring 2 integral recoil lugs along with 4 mounting crossbolts, the precision mount easily handles the rigors of competition or hard use environments while being at the ideal 1.54" height for AR type receivers. A generous 2" cantilever provides optimal eye relief for modern scopes and low power variable optics. The STANAG rail interface allows for more precise mount alignment and return to zero capability than a traditional Mil Spec 1913 Picatinny interface, still being compatible with all picatinny rails. The Warne Skyline Precision Cantilever Mount features a wide assortment of accessories that mount directly to 10 different locations on the scope rings. Look for Warne's complete line of Skyline Precision Shooting Accessories at your favorite retailer.
Available in Zero & 20MOA for 30mm, 34mm and 35mm scopes.
Designed and MADE IN USA
Accessory placement allows the scope tube to be free and easily moved front to back for precise eye relief and is a much more efficient way to mount accessories. Shooters can add these optional accessories:
Precision Mount Level
Data Card Holder
0° accessory rail
90° accessory rail
Data Card Refills
Specifications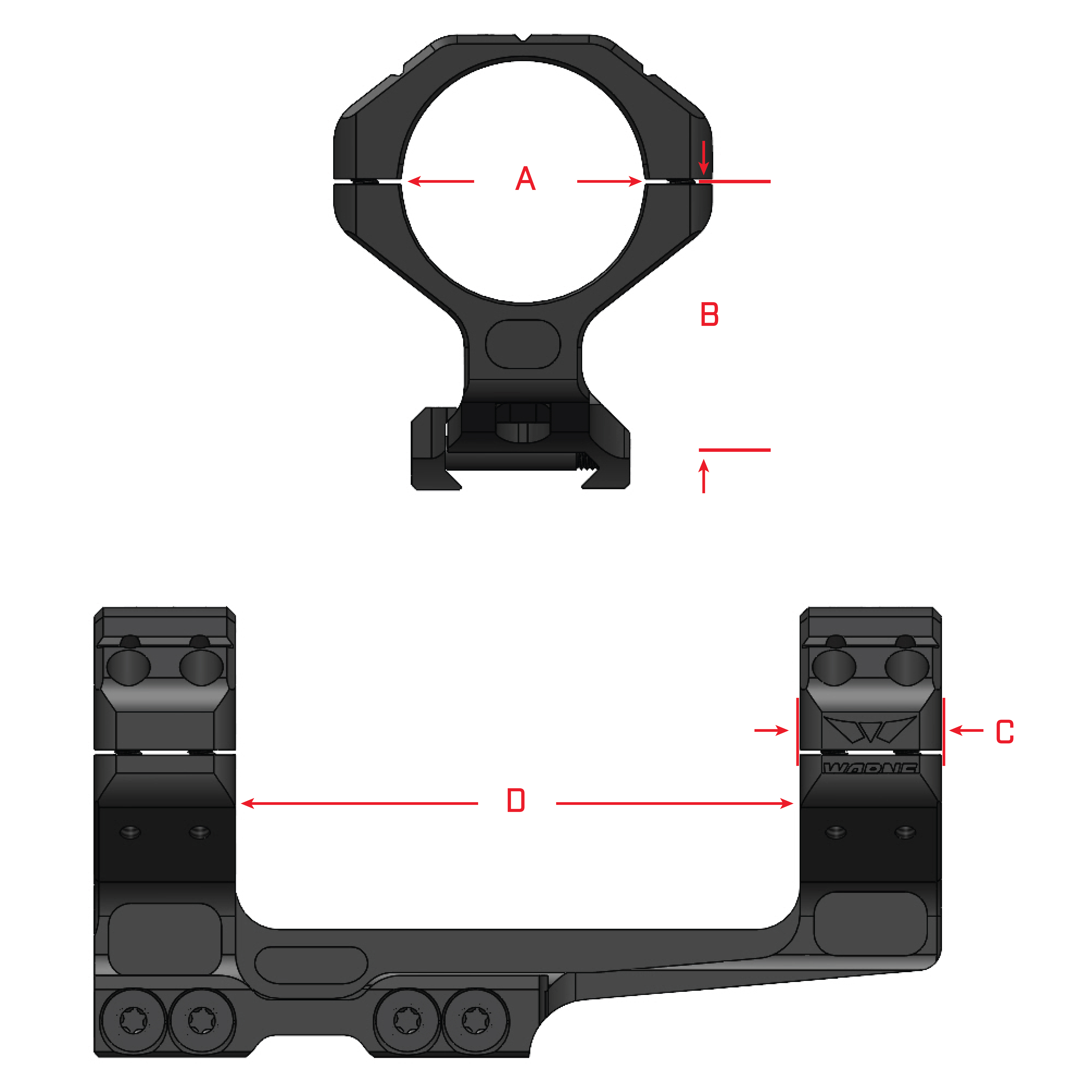 Part Number:
7825M
Fits Objective Size:
72mm
Height:
MSR Ideal Height
Dimension A:
34mm
Dimension B:
1.540 inch
Dimension C:
.813 inch
Dimension D:
3.23 inch
Finish Color:
Matte Black
Weight:
6.4 oz
Material:
7075 Aluminum
Scope Tube Diameter:
34mm
Fits Objective Up To:
MSR Ideal Height
Installation

Instructions

Always verify that your firearm is UN-LOADED before performing any service on it. Warne recommends that you loosely assemble rings and scope onto firearm prior to final mounting to verify eye relief and ring spacing.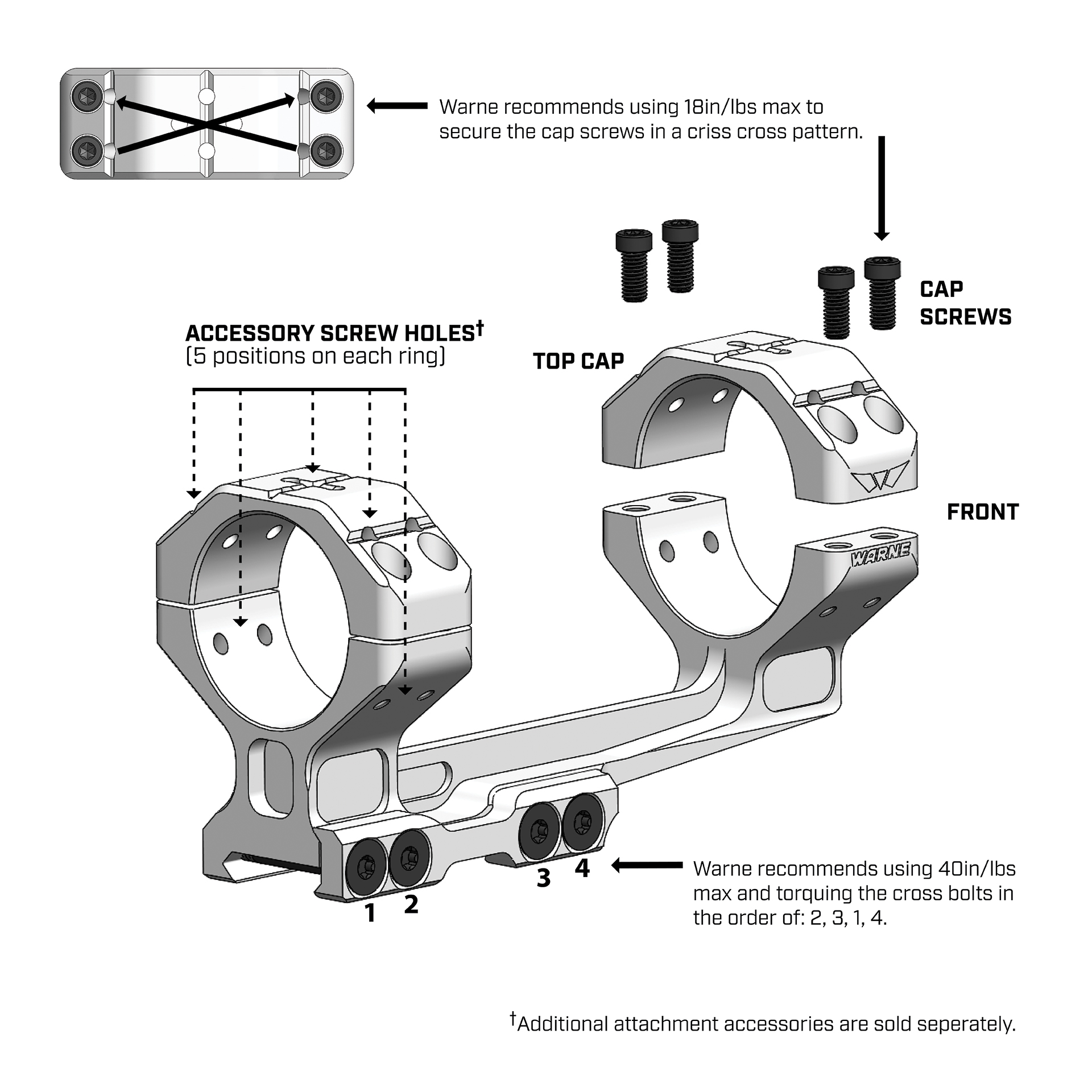 Loosen 4 cross bolts with a T-20 wrench and install on your picatinny style rail.
Tighten cross bolts snug and follow the recommended pattern for final tightening.

Warne recommends torquing the cross bolts in the order of 2, 3, 1, 4 to 40 in/lb max.

Remove the 4 cap screws from each top cap with the supplied T-15 wrench and remove the top caps.
Place your scope in the mount and replace the top caps and screws*.
Slowly tighten cap screws evenly and leave loose enough to adjust for eye relief and level the reticle and tighten the cap screws in a criss-cross pattern to scope manufacturers' recommended torque rating**, 18 in/lb maximum.
*Torque Spec are for dry threads, DO NOT USE THREAD-LOCKER COMPOUND
**Many scope manufacturers' have established specific torque ratings for their scope and you must follow their recommended torque.
IMPORTANT: NEVER OVER TIGHTEN ANY BASE OR RING SCREW. NEVER ATTACH A SCOPE IF THE OBJECTIVE TOUCHES THE BARREL OR CAUSES INTERFERENCE WITH THE BOLT, SAFETY OR CYCLING OF THE ACTION. ALWAYS FOLLOW THE FIREARM OR SCOPE MANUFACTURERS' RECOMMENDED TORQUE SPECIFICATIONS. YOU ARE RESPONSIBLE FOR YOUR OWN GUNSMITHING METHODS.
If you are unsure or do not have the proper tools, please contact a gunsmith for assistance, Warne will not be held liable for stripped/damaged receivers or scopes.