Description
Available in 1 inch, 30mm and 34mm size.
he Warne Rapid Acquisition Multi-Sight Platform or R.A.M.P. is a cantilever style scope mounting platform that allows proper scope installation on the popular AR-15 rifle. By design, the AR platform was intended for fixed iron sights and did not offer an acceptable mounting surface for optics. As the weapon system evolved from the military designate M16A1 to the M16A3 and M4, Picatinny mounting systems became standard equipment. However, the rail system found on the A3 and the M4 weapons still did not allow a variable power optic to be mounted far enough forward with conventional scope mounts. The Warne R.A.M.P modular mounting system positions the front ring forward of the upper receiver by 1". This allows the optics to be mounted farther forward enabling the shooter to have proper head orientation whether upright or prone without sacrificing or compromising due to improper positioning. The Warne R.A.M.P also offers unique 45° mounting rails on both sides of the optic. As you know, variable power optics are great for distance but not CQB scenarios. Additionally, CQB sights are great for close quarters and entry scenarios but not for distance shots or target ID. So, which one do you choose? Why not have both? The R.A.M.P provides exactly that. The primary sight can be as small as a 1-4 or as large as an 8.5-25 or a larger variable power optic. With a mini red dot on one or both sides of the ocular, a shooter can transition from scope to dot or dot to scope in less than a second by rotating the weapon 45° left or right. While the technique is not new, the position of the red dot is. By placing the sight under the ocular of the scope, we have provided a wider field of view through the mini red dot which makes acquiring the dot in the sight faster than you can imagine. And once again, you won't have to sacrifice your shooting position when transitioning from sight to sight.
A Warne RAMP optics mount from Warne Scope Products equips your MSR, AR15, AR10 style rifle for targeting accuracy.
Warne Scope Mounts helped innovate the cantilever design, and we continue to do so with our Rapid Acquisition Multi-sight Platform series. The RAMP30 30mm mount's 45-degree rail allows attachment of a red-dot sight without interfering with proper scope placement. That means you can adapt to distance targeting or CQB situations without giving up proper technique or positioning. It also features quality aluminum construction and is manufactured in the U.S.
Specifications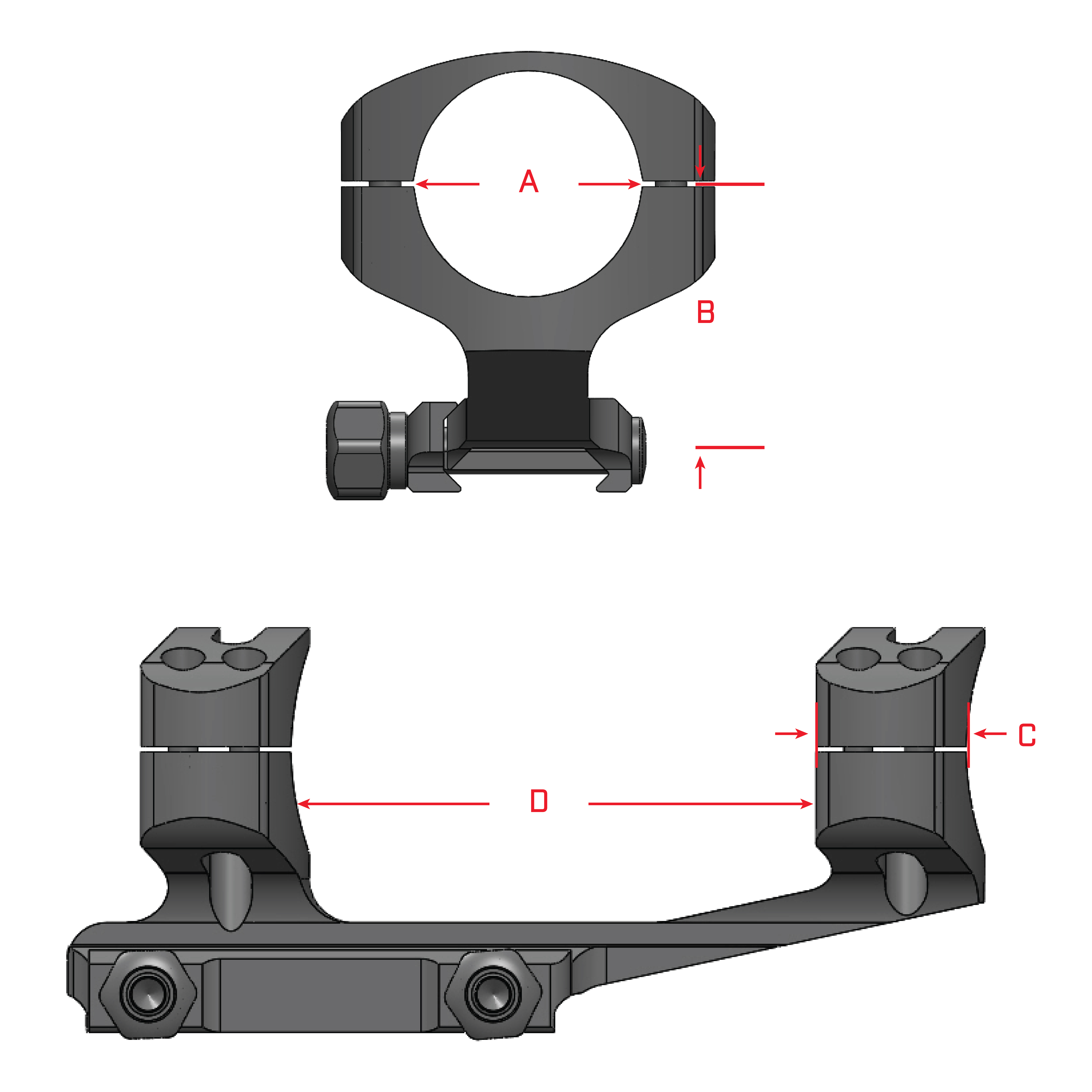 Part Number:
RAMP30
Fits Objective Size:
72mm
Height:
MSR Ideal Height
Dimension A:
30mm
Dimension B:
1.43 inch
Dimension C:
.750 inch
Dimension D:
3.05 inch
Finish Color:
Black
Weight:
9.5 oz
Material:
Aluminum
Scope Tube Diameter:
30mm
Fits Objective Up To:
MSR Ideal Height
Installation

Instructions

Always verify that your firearm is UN-LOADED before performing any service on it. Warne recommends that you loosely assemble rings and scope onto firearm prior to final mounting to verify eye relief and ring spacing.
Loosen both nuts on the mount and install on your Picatinny style rail with the cantilever forward
Warne recommends mounting the 1 piece with the front cross bolt in the farthest forward slot on AR15 Flat Tops.
Push the mount towards the muzzle and tighten both hex nuts to 65 in/lb maximum.
Remove the four cap screws from each top cap with the supplied T-15 wrench and remove the top caps.
Place scope in rings and reinstall cap screws*, leave loose.
Adjust scope position for eye relief and level reticle.
Tighten the cap screws in a criss-cross pattern to scope manufacturers' recommended torque rating**, 25 in/lb maximum.
*Torque Spec are for dry threads, DO NOT USE THREAD-LOCKER COMPOUND
**Many scope manufacturers' have established specific torque ratings for their scope and you must follow their recommended torque.
IMPORTANT: NEVER OVER TIGHTEN ANY BASE OR RING SCREW. NEVER ATTACH A SCOPE IF THE OBJECTIVE TOUCHES THE BARREL OR CAUSES INTERFERENCE WITH THE BOLT, SAFETY OR CYCLING OF THE ACTION. ALWAYS FOLLOW THE FIREARM OR SCOPE MANUFACTURERS' RECOMMENDED TORQUE SPECIFICATIONS. YOU ARE RESPONSIBLE FOR YOUR OWN GUNSMITHING METHODS.
If you are unsure or do not have the proper tools, please contact a gunsmith for assistance, Warne will not be held liable for stripped/damaged receivers or scopes.